Goals and Objectives
There are three major goals for NES and specific objectives within each of the goals.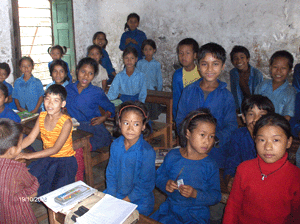 Childrens at School (Classroom)
Goal 1 - To increase the literacy rate.
Objective 1.1 - To provide education to the poor children and women literacy program.
Objective 1.2 - To assist the local people from sending their children to the school.
Objective 1.3 – For financial support to the school kids that they needs the help (e.g. orphanage, disadvantage group of children, problem facing out of current/past conflict of the country and very poor children)
Objective 1.4- To open the education centre for women who can't go to school for the women literacy.

Goal 2 – Vocational trainings
Objective 2.1 - To recruit trainer for vocational training to generate their income from the use of local resources.
Objective 2.2 - To provide necessary trainings to volunteers for the further use in the community.
Objective 2.3 - To help the local people in search of the market for their productions.
Objective 2.4 - To compare the level of improvement by the training.

Goal 3- Financial support
Objective 3.1 - To provide the loan in low interest after the succession of the training for the initiation of their business.
Objective 3.2 – To provide the loan in low interest to buy goat, buffalo and domestic animals.
Objective 3.3 - To build up the community group of the locals who will co-ordinate for providing the loan and returns of the debts.
Objective 3.4 – To re use the return of the loan in the next community.
Copyright Nepal Education Society. 2007. All rights reserved.